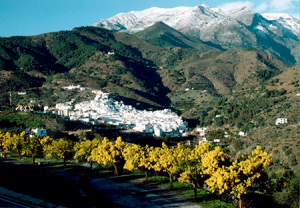 The Natural Reserve Sierra de las Nieves is located in the natural district of the Serranía de Ronda,  Málaga. This mountainous area has spectaculars ravines like the Tajo de la Caina, with more than 100 meters fall. You can also find deep abys due to the limestone grounds, an example of this is the G.E.S.M., with 1.100 meters deep.

In june of 1995 the Sierra de las Nieves was declared World Biosphere Reserve by UNESCO, under Man and Biosphere program or MaB. This protected site has the world most important "pinsapar", an endemic tree grove. The pinsapos (Abies Pinsapo) is a relic specie from the Tertiary, only found in north of Morocco and south of Spain, and covering 3.000 hectares of Sierra de las Nieves.

The highest peak is the Torrecilla of 1.919 meters in the Sierra Blanca de Tolox.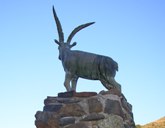 Geologically the region is also important. It is the major massif of peridotite in the world, only comparable to the one in Russia, the Urals Mountains. This massif is an enormous batholite from the Primary Age changed in surface to serpentine. 
The metallic veins appeared at the consolidation of the batholite, plus the different minerals that formed it, give the area its richness. For that reason the spa waters are so mineraly rich.
Great place to rest and relax, the Sierra de las Nieves has many mountain activities, as well as it's located near touristic cities like Málaga, Marbella o Ronda.