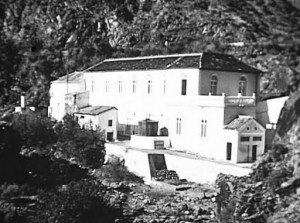 Since time immemorial, in Tolox and nearby, it has been known the existence of a series of natural fountains and springs called "amargosas" because of its bitter waters, used to cure many ailments by drinking or bathing.
Mr. José García Rey, a pharmaceutical from Tolox, became aware of its power to cure and made a scientific study thanks to which the fountain was known. He made some necessary works to collect the mineral water, he analysed them and give them the labored name of alKaline-bromide, ammonic-sulphurize, crenato-ferromagnesian waters. The thermal spa was founded in 1869, three years after finding the fountain. Destroyed by an enormous flood in 1906, it was later on rebuilt by Mr. Manuel del Río.
Politicians, artists and bullfighters have visited since its construction at the end of the 19th century. In addition, the spa is located in the favourite area of the Serranía de Ronda: the Sierra de las Nieves, pretty close to the so-called " pinsapar", a beautiful endemic tree grove.