ACCOMODATION
Main Building
Hotel since 1870, completely restored in 2012, it is a two floors building with 28 rooms, bathroom, TV, air conditioning and drinks cabinet, all of them facing the exterior or a inside garden in which stands out a hundred-years-old «cica» (cyca revoluta).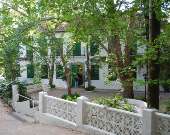 Auxiliary Restored Building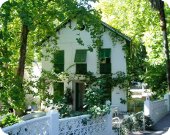 It used to be the owners'home, but later on used as an hotel. It was restored in 2009 respecting his style. Consists in 8 spacious rooms with bathroom, TV, air conditioning and drinks cabinet.

ACCOMODATION APARTMENTS
Apartments Los Manueles
Located inside the hundred-years-old hotel garden, next to a stream, on just the border of the «Parque Natural» (a nature reserve) and surrounded by the country.

The Fountain House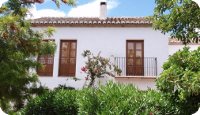 Farming house from the 19th century recently restored in rustic style, still has its oranges grove garden. It is located in the borders of the urban area and near of the spa's gardens.

The house consist of five apartments, each of them with two bedrooms, a living room, completed bathroom and kitchen, chimney, TV.
AUXILIARY BUILDINGS
Services Building
Building from the late fifties, it follows the north-American arquitectonical style of its time, stand out the quarry work over the hard peridotite stone and the balcony hanging over the stream. In just one level floor it has the dining room, a big living room, the bar, chimney and play room.
Chapel
Located in the hotel gardens, there is a mass everyday from the 1st of july to october 15th.
Gardens
Platanus hispanica, celctis australis, eucalyptus, phoenix canariensis and washingtonia robusta hundred-years-old surrounds the different buildings, and the chapel, and stretch along the spa walk, being all a private area of 20.000 m crossed by a stream.

Piscina
Desde este verano contamos con una fabulosa piscina